Big Sis here.. I really LOVE the idea behind the Weekly Chase.. but I am surely struggling to keep to my goals each week. This week a couple of wrenches were thrown my way... but I can't keep using excuses about not reaching my goals. TRYING so hard to reach my goals this week!
If you haven't heard about the Weekly Chase that our friend over at 
Live, Love, Run
 does each week- you should really go over and read about it. Even if you don't blog, it is an awesome way to keep weekly goals and try and reach them! If you want to know more about the Weekly Chase go 
HERE
.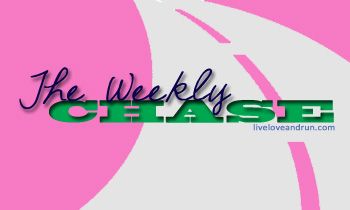 BIG SIS: 
My Goals from Last Week:
1. To run 15 miles Monday-Friday. I have a race on Saturday so I do not want that to count toward   my 15 miles. ---I ran a total of 2 miles this week. Something has been going on with me and messing with my desire to run.. I figured it out this week.. but I MUST get with it.
2. To get at least 5 more Birthday Celebration Posts completed. --Using blogger on my laptop is not working and has not been all week. IT is just a gray screen. Has anyone ever had that. I did not think to use my computer upstairs until last night.
3. To complete 2 Guests Posts on our blogs. --Nope.
4. Log what I eat daily.-- I started it.. but did not finish.
5. Water, Water, Water! -DONE
1. Run 15 miles total for the week.
2. To get Birthday Celebration Posts finished.
3. To get Bondi Bands shipped.
4. To get October Guests Posts ready.
My Goals for Last Week:
1. To run 20 miles this week-Not quite....I lost a lot of motivation this past week! I did hit my longest run yet, at 8 miles though! So it was somewhat successful! 
2. To stay on track with my family weekly menu-YES!!! I have done awesome at this! and if you don't have a family menu, you should try it! It is amazing! It keeps me on top of things and accountable to myself to always cook or prepare meals.  Plus it makes me feel good b/c I am being organized and taking care of my family! 
3. To be at home and continue to evaluate my schedule and talk to my husband before making plans outside of the home-Doing pretty well at this! Continuing to find new ways to be more organized with my schedule! It's going great though! 
4. To stay on top of blogging and get posts done ahead of time-Doing pretty good at this one too, but needing to get some Birthday Bash Celebration posts done! ASAP
5. To get estimated prices done for all of my cushion/pillow sales that I have gotten messages on from my Etsy store! -Getting a lot of this done, still having steady sales, and making progress with some custom made cushions for some customers! 
My Goals for THIS Week:
1. Run 5 days this week, and one of those be a long run
2. Make running more of a priority than other workouts 
3. Eat well----take time to think about each thing that I eat and saying no to sweats or sugar filled drinks
4. Get Birthday Bash Celebrations done
5. Take a day off from work to relax!