If you haven't heard about the Weekly Chase that our friend over at 
Live, Love, Run
 does each week- you should really go over and read about it. Even if you don't blog, it is an awesome way to keep weekly goals and try and reach them! If you want to know more about the Weekly Chase go 
HERE
.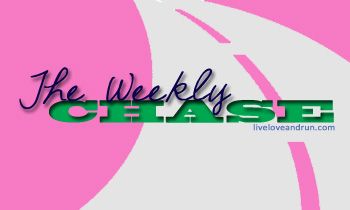 In last weeks' Weekly Chase, we gave ourselves lots of goals. We want to share with you how we did last week before we share the goals for this week. 
Here are our goals from LAST week:
Big Sis!
1. Work out all 5 days this week, totaling at least 22 RUNNING miles! -ALMOST and I did not even realize it. I didn't run the first part of the week. Wed-Fri I completed 3.75 miles. Saturday I did a 5K Mud Run and Sunday I did a 1/2 Marathon. Putting me at 21 miles.
2. Start going through our stuff and posting things on Craigslist! -I did start making a list, but nothing went on CL. Hopefully we find out more about our situation and I can proceed with things this week.
3. Call around and get rates for apartments, storage, etc. -Done! We have a plan.
4. Complete the Virtual Scavenger Hunt! -I did not do it and am just going to have to mark it off my list. This week FLEW by and well... I just didn't have it in me. Strange. 
5. Continue eating CLEAN! -Done! 
Lil Sis!
SIDENOTE: I'm not trying to slack on goals, I'm just not wanting to set myself up for failure when I will literally be working from 7-8am to about midnight almost every night this week. 
1. Work out 3 times this week no matter what it is---This did not happen. I forgot that I literally worked from 7am-11pm or later every night during last week.  I had maybe 2 breaks during the week, but just had no energy to go to the gym.  I will start back up today
2. Take care of my home--Really my husband mostly did this for me, since you read my schedule above! 
3. Eat well--I did fairly well at this! 
4. Be joyful and meet lot's of new freshmen college students-I did great at this!! yay! 
On to our new goals... 
Big Sis!
1. Start a Plank-A-Day. I really want to build up how long I can stay in a Plank for.. and this is my plan to help me get there!! 
2. Cross Fit 3x and 20 miles this week! 
3. Get Birthday Celebration Giveaway Calendar set up.
Little Sis
1. I agree with Big Sis! I have been hearing about everyone doing the Plank-a-Day, and I would really like to try that also! I know how much it works your body, and right now I can barely do it for like 30 seconds! 
2. Run 20 miles this week
3. Do 2 workouts besides running
4. Celebrate my husband's birthday!