If you haven't heard about the Weekly Chase that my friend over at Live, Love, Run does each week- you should really go over and read about it. Even if you don't blog, it is an awesome way to keep weekly goals and try and reach them! If you want to know more about the Weekly Chase go HERE.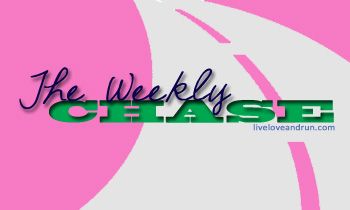 In
last weeks Weekly Chase
, I gave myself 4 goals. I have to be honest with you though and tell you that after the week started and some of my goals changed... I went back and changed them. I only changed my fitness goals... but I worked hard to make sure that I did complete the goals I had set for myself.. So for last week my goals were:
1. Batch Cooking: To cook and freeze-- another pack of Pizza Muffins and 4 full size Chicken Pot Pies and 4 individual pot pies.
--I did it!! All on Monday, too. Someone asked that I blog about my batch cooking and I hope to have that blog ready for Tuesday! :) So make sure you come back!  I might add that I canned 14 jars of salsa too! 
2. To run 20 miles.
- DONE! 
3. To do 30 Day Shred 2 times this week.
-DONE! 
4. To cook dinner each night the husband is off! 
(I have really, really been slacking on this lately and I do not like that)
- DONE! I did this each night except for Monday night and Sunday night because we ate at a friends' house! 
-------------------------------------------------------
On to this week.. I am so excited to share that my Lil Sis, Brittany, is joining in on the Weekly Chase now too.. So you get to keep up with both of us and motivate us both... 
Big Sis! 
1. To attend Cross Fit 3x this week! Should be easy since I have someone going with me! 
2. To do Jillian Michaels 30 Day Shred Monday-Friday during nap time! 
3. To drink at least 1 gallon of water each day.
4. To run 21 miles this week. 
5. To get Sam's baby shower stuff finished before Friday! 
6. To continue with my NO DIET DR. PEPPER or Energy Drinks! 
7. To be in bed BY 11pm (this is huge) each night and set my alarm and get up at 5am! 
1. Finish painting our blue walled living room!
2. Go on a date with my husband! 
3. Full clean my home before the boys come back!
4. Sew some more products for my etsy store!
5. Run 6 miles again in one setting!
6. Run a total of 20 miles this week! 
7. Stop drinking sweet tea and stick to just water and coffee! 


Wow! I have a lot of goals set for this Weekly Chase!! But we know we can do it. We feel great this week and will continue to be able to mark things off our lists!! YAY! 
I hope you will join in on the Weekly Chase with us. Tell us what you need help completing this week.. How can we help you??