Today I would like to welcome Carly who is joining us as we wrap of the Texas Blogger Series! I have enjoyed so much having all of our Texas Blogging friends join us at Natural-Nesters and I hope you all have too! I know that you will for sure enjoy Carly today as she shares a little bit about her self and her life! Carly blogs over at Texas Lovebirds, so be sure to head over there and check her out!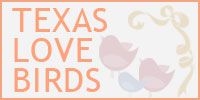 Hi, y'all! My name is Carly and I blog over at Texas Lovebirds. I write about my life as a wife, a new momma, a woman living in God's grace, and all of the moments in between. 
As I'm sure you figured by my blog name, I live in the great state of Texas and have for my whole life. I've been married to my husband, Cody, for a little over three years now. He is a firefighter/paramedic in the DFW area and just recently promoted to the title of driver/engineer...basically, he drives the fire truck. I taught 7th grade Language Arts but recently left the profession to become a SAHM to our son, Gunner. Gunner was born in February and is the love and joy of our lives. 
The post I am sharing with you all today, is an oldie but goodie that I wrote during my pregnancy. It's still one my most favorite posts and something I try to keep in mind daily. I hope you enjoy my post and I hope you'll stop by and checkout my blog. 
______________________________
Growing up I remember hearing adults (specifically my parents) talk about the worry that comes with being a parent. You know, followed by that very typical line.."you'll understand when you have kids someday." Okay Mom & Dad, you were right. 
Last night while I was outside with the dogs, I took a little spill. My sweet Molly girl (you know, all 170 lbs. of her) got a little rowdy when I had her on her leash and pulled me a little too hard; thus, I fell. I caught myself on my hands and knees and got up unharmed. No belly hitting, or even remotely touching, the ground. Molly was distraught and quickly came to my aide, crouched beside me till I was on my feet. Once I was on my feet, my hand was covered in big, slobbery, Great Dane kisses.
I felt fine, I didn't ache, and I had no pains. 
But, of course, a little bit of me started to worry.
I promptly came inside, drank a big glass of juice, sat down, prayed, and waited for Gunner to move. I called Cody at work, and he assured me that I was fine as long as I wasn't hurting (in times like these, his medical knowledge really helps calm me). Shortly after getting some sugary juice in my tummy, Gunner began to kick up a storm. Each little movement, even the kicks to the ribs, made me smile. My boy was just fine.
"Thank you, Lord," I said. 
Followed by a thank you to Gunner as well.
Anxiety and worry are things I've always struggled with, and I'll probably write more about that later, but so many events have taught me that God is always in control. I think this will be a hard pill to swallow as Gunner comes into this world, but I know in my heart that it is true.
Gunner will always be most precious to me, but it comforts me to know that he is even more precious to God. He was knit in my womb for a reason, for a purpose. I don't even know what he will look like, but God knows the entire life that is ahead of him. God is so cool like that.
And do you know what's even cooler? 
That God allows little worriers like me to raise his children.
And when we worry, He grants us a flurry of movement and kicks.

Don't forget while I am gone if you would like to keep up with us, we are keeping a small blog called
 Mission-Trinidad!
 Be sure to check it out, we will be posting pics, giving updates on how we are doing, and sharing some great testimonies about how good the Lord is!