Taylor, who is visiting from the blog Goings on in Texas is another wonderful blogger from Texas! I am so excited for what Taylor is sharing today...I have such a sweet spot in my heart for photographs, so anything with displaying photos in a new and creative way makes me so happy! I hope you will enjoy this project that she is sharing as much as I did! Taylor has tons of funs things like this over at her place, so be sure to go over and get to know her some more, and let her know you are visiting from Natural-Nesters!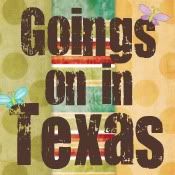 Hi Everyone!! I'm Taylor and I blog over at Goings on in Texas. I am a 30-something, Texas transplant who was born and raised in Arkansas. I moved to this great state in 1999 to attend college and I never looked back. I do miss the beautiful scenery of my home state, but I've grown roots in Texas and it looks like Texas will continue to be my "new" home.
I'm married to fabulous guy (2006). We do not have any children, unless you want to consider our used car lot a child. :) I am a Petroleum Landman, Certified Personal Trainer, Used Car Lot Owner, Landlord, Christ follower, Entrepreneur, Crafter, DIYer, Cook, Organizer, Gardener, Traveler, Singer, Book-a-holic, Shoe Lover, Talker, Wife and probably a whole lot more, but that paints you a picture, I'm sure. ;) So, what can you find within my blog?? Bits and pieces of my life. Total randomness about my hobbies, thoughts and everything in between. The sky is the limit with me. Each Thursday I host a link party for all your DIY/Recipes/Craft Projects (come link up!) I hope you'll follow me on my blogging journey! :)
I'd like to share with you a fun project that I actually made for my in-laws for the Christmas Gift this past year. It's a tutorial on how to make your own photos on canvas. If you notice, my pictures are watermarked with my Craft blog (Crafty Et ceteras). It's currently on hiatus due to all my stuff being in storage but we are moving soon, so hopefully I can get crafty again! ;)
Here is what you'll need:
**Your choice of photos (I made a custom collage (10 x 10) using Picnik (since Picnik no longer exists unless you are on google+, you could use PicMonkey or iPiccy to make your photo collage) and then sent the files to a flash drive and had Staples print each collage photo file on 11 x 17 card stock paper.)
**Canvas (I used a 12 x 12 size. I bought a package of 7 on sale for $12 at Michael's.)
**Mod Podge (or your homemade version of Mod Podge)
**Foam Applicators
**Acrylic Paint in your choice of color (I used Martha Stewart Crafts Multi-Surface Satin Acrylic Craft Paint in Beetle Black.)
**Scissors or Paper Trimmer
Step 1: Using a foam applicator, apply a coat of acrylic paint around the border (about 2-3" in) and on all sides and let dry. You want to apply a thick enough border around the edges so that the picture you center on your canvas covers any white space.
Step 2: Cut/trim your photo down to the size you want it to be.
Step 3: Add a thin coat of Mod Podge using an applicator brush. Make sure you add enough so that when you lay your photo down, there is enough glue at the edges. It's okay if you put a wider layer of Mod Podge than your picture.
Step 4: Gently place your photo in the center of your canvas. Starting at the center, gently press your hand down in the center and push out towards the edge slowly easing the photo down onto the glue and easing the air bubbles out. Continue this process all around the photo. The edges may want to sort of curl up, just continue running your finger around the outside edges (drawing a square as you go) to allow the glue to get tacky enough to hold the edges down. (I had to keep "drawing" the square with my finger several times until I felt the picture was properly adhered to the canvas.)
Step 5: Allow to completely dry.
Step 6: Add your first coat of Mod Podge using an applicator brush to your newly placed photo on the canvas. Make sure to cover the entire canvas.
Step 7: Allow your first coat to completely dry.
Step 8: Add a second coat of Mod Podge, making sure to cover the entire canvas.
Step 8: Allow your second coat to completely dry.
Step 9: OPTIONAL: If you feel you need to add a third coat of Mod Podge, go ahead and add it. Make sure to allow to completely dry.
Once your canvas has finished drying, prep it for hanging or displaying. You could add a ribbon hanger to your canvas or just add picture hanging hardware. Or you could display your art on a plate holder easel. Lots of possibilities!
Notes:
When I had my pictures printed at Staples, they first started printing them on the card stock. However, due to technical difficulties with their Commercial printer (it kept eating the paper), they changed my paper to a photo-type paper. When I placed the photo-type paper on the mod podge, the moisture from the glue caused the paper to begin to curl up. It didn't want to lay right and also began to ripple/wave. The cardstock paper by far was the most superior paper. It stayed down like I was hoping it would and had almost no ripple/wave to it. So, I highly recommend the cardstock paper for this particular project.
Here is the collage of 10 canvas photos now hanging on the wall. :)
Happy Crafting!
Don't forget while I am gone if you would like to keep up with us, we are keeping a small blog called Mission-Trinidad! Be sure to check it out, we will be posting pics, giving updates on how we are doing, and sharing some great testimonies about how good the Lord is!