Today I am HIGHLIGHTING some of the amazing ladies that sponsor Natural-Nesters! They are each wonderful in their own special way and I hope that as I share a short snid-bit about each one of them that you will see how special they are! 
Be sure to stop by their blogs and give them some comment love! Because WE LOVE THEM over here at Natural-Nesters
First off is JUlie Fiorito from 
A Beautiful Day
. Julie is a beautiful woman, a single mom, and such a sweet blogger. . I feel like I have met Julie in person, but only because even through internet interactions her sweet spirit can be seen! 

I am a 40 something, single mom to a wonderful 11 year old boy.  He is my world!  I thoroughly enjoy scrapbooking and paper crafts. There is nothing quite like the feeling of getting someone's photos and turning them into a treasured keepsake.  I also love creating party favors and have recently discovered that I can throw a mean party.  I am fairly new to blogging, but am really enjoying it.  I hope that in the near future I can get myself on a regular schedule with it.....because let's face it, sometimes it gets down right sporadic. 
FOLLOW: 
Next is Kristen from 
The Mrs. & the Momma
.  Kristen is such an inspiration and such a cute little lady! She has some awesome and fun outfit posts! She such an inspiring fashionista...yes AND A MOM! It's amazing, and I only hope I can be as stylish and fun, and all around happy like she is one day when I become a mom!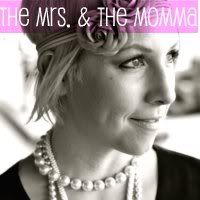 My wish is to help other mommas and women find or rediscover their personal style.  Dressing fashionably is individualistic.  I am a firm believer that if one feels great in what they are wearing, confidence rarely falters.
FOLLOW: 
And our other sweet Texas sponsor is Amanda Faith from 
Princess of the Panhandle
.  It has been such an amazing thing to get to know Amanda, and read about her journey! She is a warrior, a new mom, whose baby was born early, and now she is finishing school where she has to be hours away from her husband to get done.  But she is almost there...she will finally be reunited with her sweet man in September! 
Mr. H and I have been together for almost 2 years and this is our sweet daughter Teale. 
We live on a cattle ranch in west Texas.  Mr. H is a cowboy, yes that is a real job.
I love my family, Starbucks, reading, the lake house, everything about summertime in Texas, making jewelry, learning to cook, shopping, couponing, reality tv, traveling, rodeos, my iPhone, raising money for charities, fishing, our horses, working out, and blogging about it all along the way.
FOLLOW: 
IF YOU ARE INTERESTED IN SPONSORING NATURAL-NESTERS NEXT MONTH BE SURE TO CHECK OUT OUR
SPONSOR PAGE! 
We love our sponsors, and each one gets special treatment.  Including as much advertisement as they ask for, special highlighting posts, shoutouts through facebook and twitter, involvement in blog parties, guest posts, and giveaways, and more!