In a recent post I shared about how my husband and I got new bedding for Christmas, and how this inspired us to start a bedroom makeover (check out my inspiration-goals HERE, and a before photo of our bedroom)....well it is slowly but surely happening!
Today I am SOOOO excited to share with yall my new favorite piece in my bedroom, and I love the fact that it is something that my husband and I created together!
For a long time I have seen a lot of awesome fabric covered headboards and I wanted to make one so bad....and I kind of did, but I love ours even more.  Basically we took our drab wooden headboard and painted it, and put a fabric, tufted insert into the middle of it, and now it is totally FAB! I love that it has fabric and wood, plus the black makes it very modern, and there is an awesome a fun design with tufting!
So the first thing we did was take our wooden headboard off of our bed, and start sanding it.  We knew that the rods in the middle of the headboard would be covered with fabric, so we didn't even worry about sanding or painting those.  Once the headboard was prepped for painting, we rolled black paint over it.  Which gave it such a modern, glossy, shine!
It was different for us because everything in our room was brown wood.
Next my husband measured the inside of the headboard.  For ours we were specifically setting the fabric part into the insert where the wooden pegs are (as you can see above), so we knew exactly where to measure the wood.  If you were doing this, you could just decide how big you want the fabric part and measure that.  For ours, we cut the lightweight board a little smaller, because with the batting and fabric wrapped around it, it would gain a little around the edges of the wood.
After the wood was the right shape we also measured foam and batting.  At first we just covered it with batting, but when we decided to tuft it we wanted it to be thicker so that the tufting was more noticeable, so we added a 2 inch foam piece under the batting.  You can make it as thick as you prefer.  We then used a staple gun to wrap the batting around.
After the batting was on, we measured and cut the fabric with a few inches length past the board on each side.  We wrapped the fabric around and stapled it to the backside of the board.
At this point you would have a beautifully, fabric covered headboard! I was so happy when we got to this point.
Of course we have our headboard tufted, so it wouldn't look exactly like ours at this point.  I will have another post in the next weeks teaching you how to do tufting.
Then we inserted the fabric piece into our freshly painted headboard.  For ours we used a U bracket around the wooden pegs.  It may be different for your own, depending on what type of headboard you start out with.
NOW....You have an amazing headboard!! Looks brand new! I definitely felt like we went from Drab to FAB!!
I am purposefully not showing you my entire bedroom because there are several more bedding projects to come to finalize the total look of my bed! But be on the lookout because those will come soon!
Be on the lookout for another post with details on how we finished our first tufted project!
Check out prior posts about our bedroom makeover below!
Have you ever made a headboard!?! I'd love for you to post the link below!
Linking up: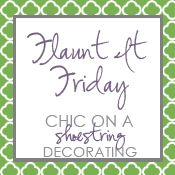 We were FEATURED ON!!